make your event a
networking powerhouse
What is Structured Networking?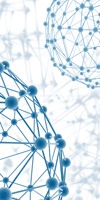 Structured networking is a meeting-form that makes personal introductions at conferences more predictable and effective.
It provides the opportunity to significantly increase the value perceived by the conference attendees, exhibitors, experts and speakers.
Example: If your event has 100 attendees, that means it has the potential to host almost 5,000 one-on-one meetings. With 200 attendees that number goes up to 20,000 meetings. It quickly becomes clear that software is needed to find and engage the right people.
Why Structured Networking?
Structured networking transforms your event into a highly appreciated business development opportunity for the attendees! It is about making someone's time at a conference or event really productive by helping him or her meet the right people.
Sometimes it is called Speed Networking or Pre-scheduled Appointments. It is for the business professional people seeking special skills, partners, peers or specialists to network with.
With structured  networking the attendees plan ahead, and arrive at the conference with a pre-printed list of meetings. It also means the attendee arrives knowing that the investment and effort to attend your conference is already worth it. Typically, attendees quickly learn about the networking value, and come back over and over again.
read more